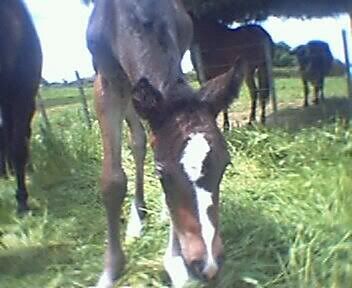 I bred Bill out of a TB mare I had at the time. The TB mare had raced with the name Simply Brilliant and then went showjumping with the name Bobbit because her tail had been chewed. Naturally, I competed her under her racename because Bobbit is a horrendous name for a very nice horse, But the name Bob stuck and she suited it. She was an amazing mare. Hot and sensitive, hated flatwork and loved to jump. She was a super mover and a real head turner. I jumped her to 1.30m, won showhunter classes up to 1.15m, and evented to Novice (Equivalent of Prelim in US). She could go straight from a speed class to a hunter class and as soon as you took her flash off, she knew and went differently. Bob is by the supersire in the Southern Hemisphere of top jumping and eventing horses Brilliant Invader.
Bob
I probably didn't pick the best stallion for her. In hindsight I would probably have used Senator VDL who has similar breeding but with Col De La Bryere blood. Still the stallion we went for was cheaper, closer and has produced top jumpers, hunters and eventers. So Bob went to Voltaire II. I wish I knew about him then what I know now, specifically the crooked leg he throws. Voltaire tends to stamp his offspring, they tend to be compact animals with long legs that are tall, often bay, with plenty of chrome.
Voltaire II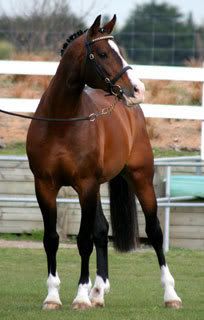 It would seem though, that Bobs genes are stronger than Voltaires, as Bill is a lot like her mother. Her face is the spitting image of Bobs, and when sent a picture of one of Bobs earlier foals, the similarities in all of their heads was incredible. Bill is not like most of the other Voltaires I have seen. She would be lucky to be 16hh, she is extremely compact and short legged, short necked and her neck attaches low into her shoulder. She is still very downhill and is developing very slowly. Still she seems to have her mothers stunning flat movement and brave temperament, as well as her stubbornness of course.
Anyway, Voltaire has produced some GP jumpers, as has Bob's sire, and Bill breeds back to Precipitation on both sides of her pedigree and he is said to be the original sire of jumping horses. Her pedigree says she will jump so who knows, maybe she will hate it, but I think she wont. I worry she is more of a hunter type or an eventing type, but time will tell. She has shown some form free jumping. I don't know. I guess on paper she is my big hope for the future. But who knows for now I'm enjoying training another horse, because it's so rewarding. It's interesting with Connie when I broke her in she had so holes in her training because she was so easy and I'm still filling some of them in. Bill on the other hand is a lot more solidly trained because I can't get away with holes with her. It's little steps.
In other news, I have finally found a saddle for Connie horse- she has a County Innovation coming, Kate's Prestige is coming very soon and my bank account is looking very sad!