Rascal in the 80cm
So last Saturday, my friend and I headed over to the Tielcey Park Winter Showjumping day to get some exposure for our young horses, and also the horses were doing something that wasn't hunting. After all, I am a showjumper :) Anyways, we arrived at 9 because we were in the third class but we didn't ride until after 2pm. Ahh! All that time we could have been sleeping. The organisation of the show was just the pits. There really needed to be a gate steward to get people into the ring more efficiently. The classes just dragged on forever.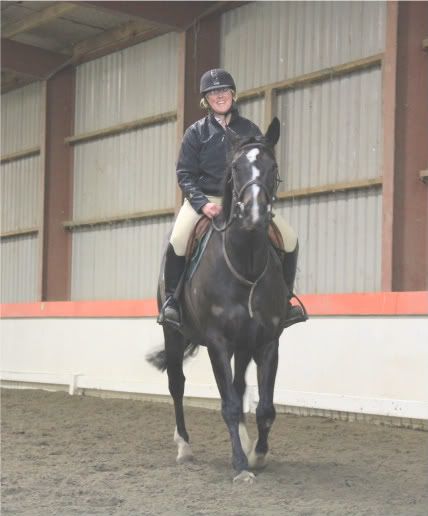 Bill
And oh my goodness, the standard of riding was terrifying. I don't expect the polished performances of the upper levels at a little local show, but this was dangerous and often borderline abusive. It's like there is no one out there who is teaching solid basics anymore, either that or no one is listening. One "clinician" I saw riding repeatedly rode his horse to a borderline dangerously long take off point, and over one fence, his horse actually paddled with it's front legs over the fence, which is really scary and a real danger of causing a horse fall. You know it's bad when all the spectators gasp- even when overhearing what they are saying, they really don't know what they are watching. I'm not trying to be stuck up or difficult- this is actually a serious safety issue. Some of the riders, it can only have been sheer luck keeping them in the saddle because it wasn't balance, technique or skill.
The other thing that bothered me was the amount of horses that are clearly getting their brains fried. If you are teaching your green bean to jump you need to A) Ride to the fence positively B) be going faster than a crawl C) not rip your horse in the face because you need to balance on your horses mouth when he does actually jump D) After you get eliminated- don't re-enter the class and make the same mistakes. You deserved to fall off, because you never gave that poor confused baby the chance to to his job. You punished him when he did jump and you hit him when he didn't. I know it's hard to ride really green horses, I really do, but if nothing else- even if you get left behind- you have to leave the horses face alone. It was awful honestly, people galloping into fences and then ripping on the horses mouths when they got hot from all the galloping. Uh. It was a really bad hands competition I think. Every time we thought we had seen the worst set of rough hands, another set, more terrible, would turn up. Still there was some good riding.
As an aside- Do you Americans find my riding from a deep seat all the time different and odd?
Anyway, Rascal hasn't jumped well all last season, she just had no confidence after a few stops with my little sister the season before. That and some issues with her foot and an injury to her hock as a 5yr old and she hasn't even been the confident balanced 4yr old I bought for quite a long time now. Around February I turned her out to focus on Connie and Kate as the season drew to a close. So I have been hunting her and it seems that hunting is actually a cure all for all problems. She feels stronger and more balanced and everything I have hunted seems to love it. It seems to be really good at teaching them to be confident over their jumps and really makes it fun again. So I pleasantly surprised when the horse I jumped on Saturday wasn't the chicken version I had been riding earlier in the year, but much more like the four yr old I brought. She really seems to be enjoying herself and is definitely much stronger. Godsh I have bitched and moaned about her constantly but I'm starting to enjoy her a lot more now.
so anyway- 1 rail in the 80cm at the smallest fence because I took it too casually, and then one rail in the 90cm at the wall when I gave her too cautious of a ride to it. She hesitated and I hit her causing her to flatten over the fence and punt out the rail. so all my fault really, but I was rapt to have my little horses back. So so nervous to be in the ring again though eh!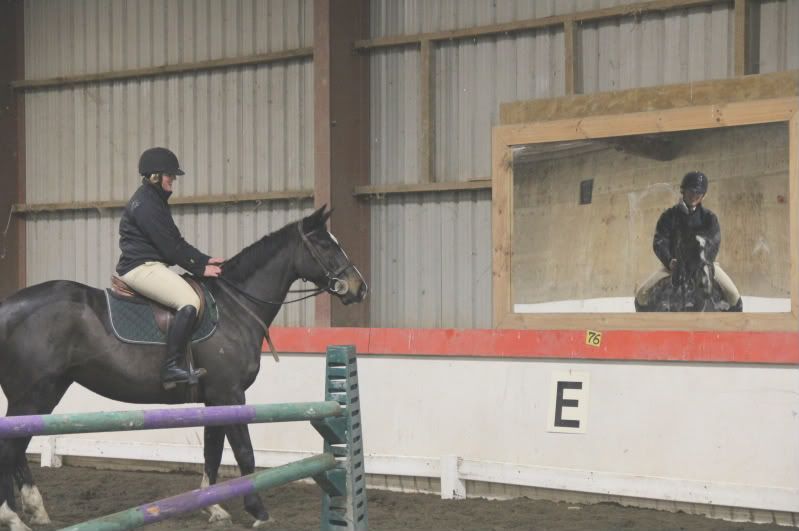 AHHGH! Who is that!
Bill came for the trip too. she called a bit while I was riding Bill but when I took her back after her classes she was busy grooming the strange horse in the next yard as happy as a clam. It had started raining when I went out to work her and the warm-up in the indoor was pretty quiet so I worked her in there. First time being worked with strange horses and first time in an indoor and first time at a show so she coped really well all things considered. I only did 15mins of walking and trotting and popped over some rails on the ground. I didn't want to ask too much especially as she was a little horse shy, and the warm-up was starting to get busy. I will turn her out for two weeks now to just think about things and then bring her back in. Luckily, with Rascal home now to act as buddy, I can start doing longer rides around the place. All and all it was a successful day for myself, my girls and my friend. But we are never going back. It was so expensive for what it was, and I can't bear watching that sort of riding.