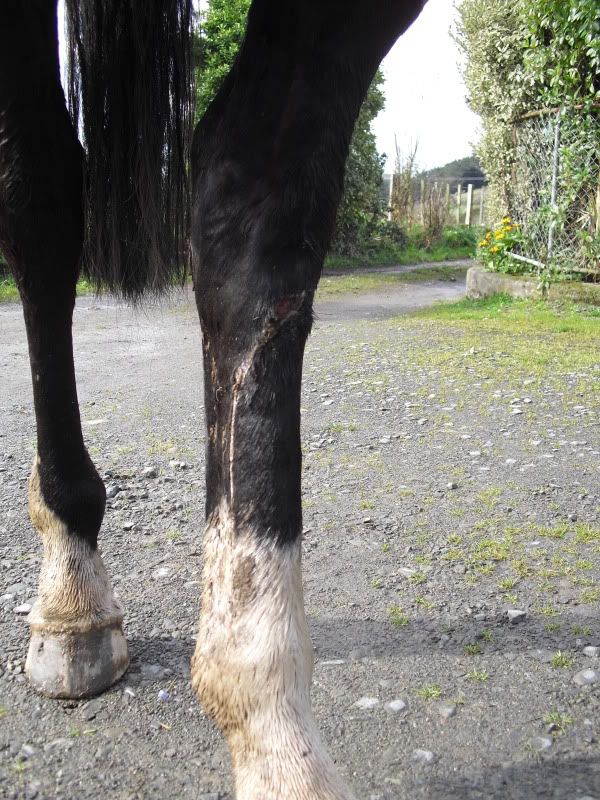 Latest picture of Bills leg (Have I posted this already?)
Yess! Rascal is good to go, so mini upper North Island tour here we come. Well next week anyway. This week I'm at Fielding on the Sunday with Kate doing the 1m and the 1.05m. All of this dealing with feet has me pondering hooves and whether or not I could change my system to make it better for soundness. Though I have never had it this bad before. The mud and surface water is just unreal and there is nowhere dry for them really. Connie and Bill are gazing our driveway for an hour each day and that dries their feet and then I can get in and treat their feet.
I often wonder if shoes are the way to go, especially with more and more barefoot horses competing. However, they still aren't in the upper levels of my sport, and there really isn't a boot option that provides the traction that shoes and studs offer. I haven't ever had a problem with studs injuring horses, be it soft tissue injuries or standing on themselves. I often don't stud when the ground is good but I know that they make such a huge difference when the ground is really really wet and heavy or really really hard- especially if the hard has a bit of long green grass on it with a bit of dew. I think that is the slipperiest condition that exists.
I think I will show on a surface three or four times this year, and being able to pick my stud set up means I can make sure my horses grip matches the ground conditions. All my horses have a break without shoes and as soon as I start riding them again they can't cope with the work on the tracks and roads, so they get shod. It was interesting that a study on the Kaimanawa wild horses showed that not all wild horses have good feet with many horses having evidence of founder and poorly shaped or formed feet. They live in wet conditions as well, and they think the spring pasture flush is responsible for the founder.
sometimes riding provides a conundrum. I love my horses but they aren't my pets, not really. I work really hard for them and provide the best life I can for them and in return their jobs are to be my riding horses/jumpers. I don't care if they don't like jumping I can find them another home/job, but if they don't suit or can't do the job well then I will move them on. I know I can keep them sound and provide good grip with shoes and studs, but I am aware that a natural foot is a healthier foot. Still, I do my best to make sure they are well shod and I love my farrier, he is a gem.