So a smaller local show last weekend and a good place to give everything a bit of an easier run. Especially with Connie having that retirement, I was looking forward to jumping her down a combination in competition to make sure my treble training had worked. It was supposed to be bills début but yea that didn't happen lol. My neck and back were pretty stiff though and I had a fat knee.
Rascal was first up in the 90cm class and jumped a nice double clear though looked at the picket a bit. It was on a hell of a dogleg corner though and she can be a bit of a tool, but ultimately she jumped so it's all good. She put three strides down the double both times because it was quite long and she doesn't jump hugely and didn't make the distance. The next class was the mighty metre or 3'3". Now Rascal hasn't gotten around a class at this height on her since she was 5 and it was at this show and then the week after she injured herself and was out for ages. So I had a bit of a mental hoodoo about this height and honestly was quite extremely nervous.
As you can see there was really no issue, she has room to spare and she jumped really well. The only issue was that she was still adamant that there was three strides in the double. I should have adjusted for this and just sat up and collected for the three but I rode up a little but found myself still in no mans land at the end of the two strides. She chipped in (below) and took the rail. Still four faults at 1m is fine. I was rapt to break my hoodoo. Dad says I am imagining things because hoodoos aren't real and only in your head, but I say if it's in your head then it must be real.
Connie and Kate were both in the 1.10m class. Luckily my sister showed up in time to holds one for me so I could go directly from one to the next. It was an unbelievably strong field for a local 1.10m class but a local has brought a new grand prix horse and had that for it's first outing, an Australian import and a couple of 1.20-1.30 horses. Connie was a tool to warm up which generally means she will jump well and is full of beans and she impressed a friends non horsey boyfriend with her jumping around.
She went into the ring and jumped really nicely. She definitely knows her job now and when to turn it on because none of the grief she gives me in the warm-ups shows up in the ring. They said I looked special because I was grinning so hard but she is really fun to ride.
Got a great distance into the double, was able to just sit quietly and stay balanced and she jumped in super confidently. She locked hard onto the second element and took me to it and jumped out well so all was good in my world. Didn't get such a good ride to it in the jump- I had to ride up a bit because the jump off course was a tad ridiculous and the corner was literally a spin and go. Still C horse stormed back through the flags for a double clear.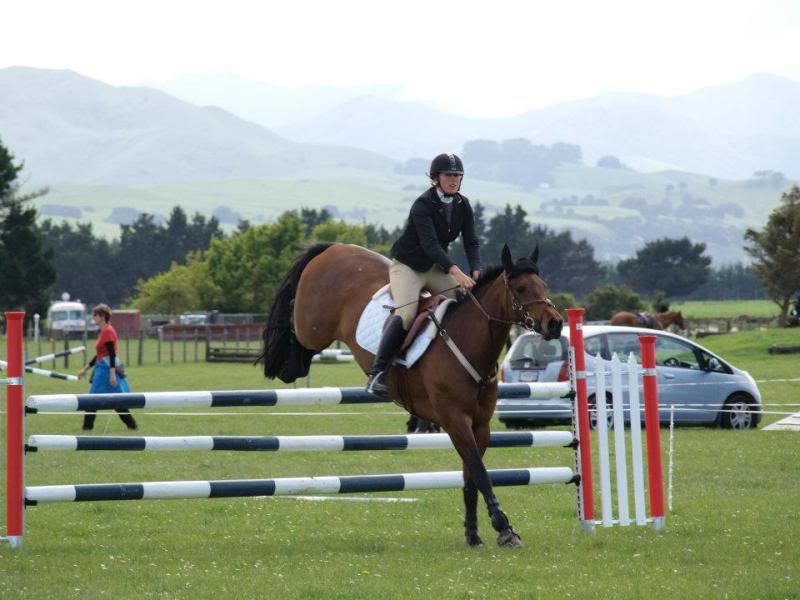 Kate I wasn't even sure if I'd start because she is carrying a few nicks and bumps at the moment but she felt really sound, looked sound to bystanders and was really keen to jump. She jumped really well as well, I felt like I was getting a bit close but my friend who is much better than I says she looks more comfortable with the deeper distance. It's amazing how confidently she jumps now her knee is good. She had a good double clear as well. I'm still waiting for her jumping pictures.
So final results? Kate was first and Connie was second. I'm sure not many actually jumped off hard, but seeing as I need to practice my jump-off turns and staying cool as a cucumber against the clock it was good to practice. Still it felt totally mean to do that well and it was all in all a really good day even though I could hardly work the next day. 4 competition rounds on top of sore muscles from falling was pretty brutal.