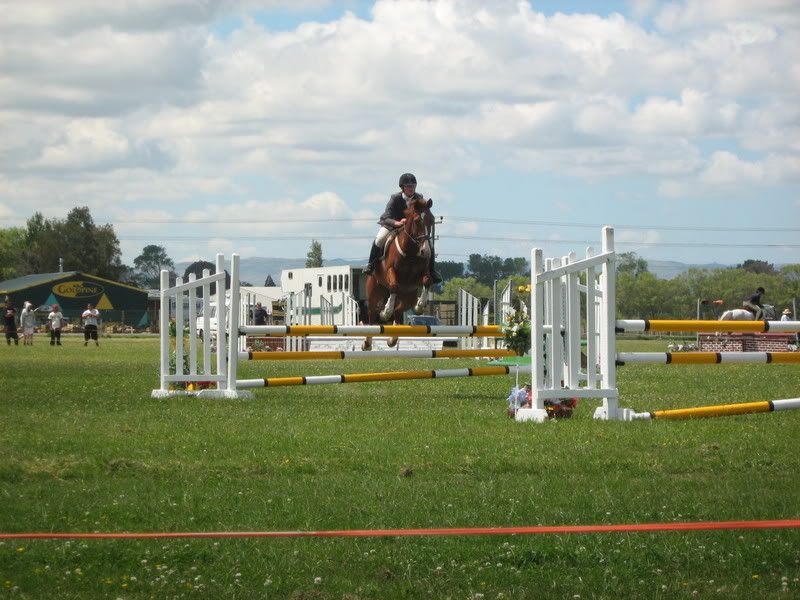 Old photo from when I was riding Butch as a 7yo- look how little the jumps are!
Cursed cursed bad luck! Butch is still lame, I still have no idea why. The farrier went over his princess foot with a fine tooth comb and couldn't find anything. It's a mystery lameness and those are the worst kind because they are expensive. But he is way lame, like my boss said even a moron could tell he is lame.
The thing is he has a strong pulse running down to his foot which indicates a foot issue, but he doesn't respond to the testers at all, anywhere. He has no heat, no swelling and it doesn't behave like a soft tissue injury. So he jumped the weekend at Manfield. The next day he was a little lame and his shoe had twisted on his bad foot a little bit. That was the foot that had been poorly shod making him not want to jump and leading to his arrival back here and into my ownership. He is a little thin soled on his front feet and there is some bruising, but he doesn't have a reaction to the testers on his bruises at all. Apparently his foot landing is fine too. So I whipped the shoe off and he improved though after his shoes were reset he was still a little off but improving. Had a short schooling ride and he was a little sore so mostly did walk work and stretches.
He continued to improve, took him for a walk hack around the roads about 800m mostly on the verges and the next day he was very lame and has stayed that way/worsened ever since. I just don't know whats going on with him and it sucks not having one of my own horses going. I will need to sell some old gear to pay for the vet. :( Nevermind. Horses man, such bringer downers. The really good master farrier is going to have a look on Friday and then I imagine he will be mystified and I'll take him over to the good vets. Boo.