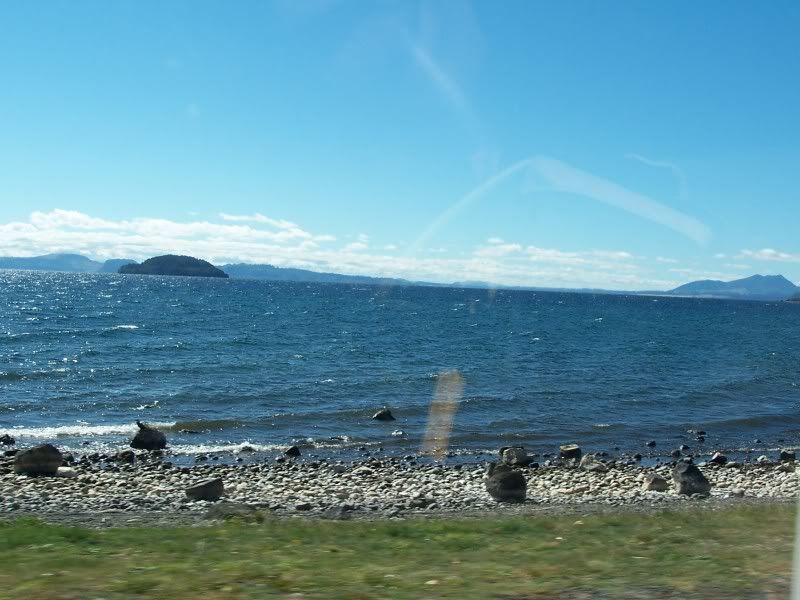 Lake Taupo in the center of the North island
Ah I promise an interesting guest post in the next couple of days when I force my sister to post of her time working in a showjumping yard in NZ. She has come back a far stronger and more confident rider, and she will have Rascal going amazing in no time. They had there first canter today and she came in saying " her canter is really weird kind of roundy, I didn't know whether to sit or two point" and I was like yea that's her bucking lol. There is no malice in Rascal.
Kate had her teeth done. Man she is a good horse, she rolled her eyes a bit but basically never moved. She had a few points but nothing serious which is good. I had thought they were bad because she was dropping food but she may just be very sensitive to her teeth starting to get sharp. The bad news is that winter is really starting to set in so it will get harder to ride now. Still there is always the farm tracks and the roads, the arena around the corner, the indoor 20 mins up the road, the beach and hour and a half away, and maybe just maybe some winter shows. I just hate the surface there and I'm really anti jumping on a bad surface. The coming season I'm planning to miss the show an hour from home where the ground is really hard and travel up to the one 7 hours away. Though my BF lives there also so it's a double plus. Shame it's not until December.
The other big plan I have in the works is to travel to Nationals in the South Island in February just for something different. now I don't know if it's true, but I'm told by reliable sources that the tracks are both smaller and softer down there, so that could be nice. It's funny you know, I have always pretty nice horses, and been relatively successful but I have never paid a lot of money for a horse that's already going. I have mostly trained my own. It's going to be weird competing on a horse that people on the circuit know. I could change her name I guess, she really is your generic brown TB mare. But that costs fifty bucks, and I'm really really frugal now I earn my own money.
Mum has said I can't turn Bill out until I can canter, ride around in the open and go for a hack so I guess I have a fair amount of work to do with her. One horse over the winter in work, is going to be pretty sweet. At some stages last winter I was working three and that was not easy at all. It all feels pretty positive at the moment and I have to say, it hasn't been like that for a while and it feels really good.