I had three horses to ride at the practice day. The first was my friends young horse that I had hunted a few times and she came out in the 80cm. I got on and came to the sinking realisation that the little (big actually she is around 17hh) horse is really not ready for jumping. It's easy to canter along in a straight line, but when you try and rate or turn her not a whole lot happens. She really needs to be taught to soften in her neck and shoulders and it will all start to come together. Schooling people it's important.
The jump is all there, she is very cute it's the rest that needs work. I have been riding Malinki for a week now and I have her to sell on behalf of. 8yo 17hh WB/irish mare that is pretty well bred. Needs lots of schooling and strength, but is so easy and straightforward. What you see is what you get. I'm hoping she will develop a bit more personality as we go. Pictures of her from the 90cm then. I did the 1m as well. She jumped really well just had a few rails and it's partly a strength thing, and she needs to get closer to the base of the fences and jump up more but that will come. Grids and schooling. She also needs about 100 pounds of condition. I'm riding her in a pelham because in the snaffle she gets really heavy and dull.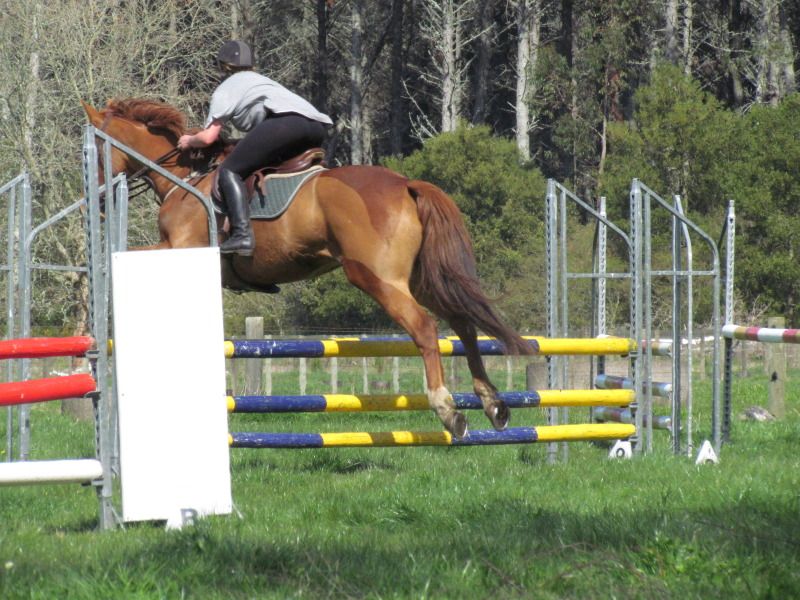 The thing with practice days is that they really show up your riding weaknesses. This are my killer flaws at the moment. 1. My hands are rolling over which is locking my forearms and killing the lightness of my hands. 2. I'm not thinking far enough in advance so I'm reacting to the course too late, I need to be more pro-active. 3. I care too much what people watching think. 4. I'm really not fit enough! I was dead by the end of the day.
Connie did the 1m and the 1.10m. Man she is so awesome. Little and unorthodox and unusual but my favourite little buddy who is like comfortable old socks. Such a gem, I adore her, even for all her diva behaviour. Couldn't wipe the stupid grin off my face. She is feeling really good so far, stronger and more forward than she usually is at this time of year. So pictures of Connie! Saturday there is another practice day and I am taking Trumps, Connie and Malinki. Though not 100% on Trumps. I'm not sure we are ready to debut in public.