So there is the field for the closing hunt for my area for the season, and I really only have a couple of hunts left to go. One in my old stalking grounds of Eastern Bay and a couple in Taupo hunt week if we make it.
Kate was again an absolute rockstar, jumped really well all day, sometimes not the best in front if I got her a touch deep and I circled twice when I couldn't see my distance being a cowardly showjumper but she jumped a fullwire which I was never brave enough to jump on her before. I remember hunting on her being fairly wild and full on and sort of feeling like she might stop, but she really wasn't like that at all, she was controlled and easy and so brave to the fences and I think she tinged one wire all day, which is amazing with how much work she has had. Her fitness blew me away because I'm aware she hasn't done that much, but she never felt that tired, certainly quieter at the end but still had her ears pricked and was keen to go on.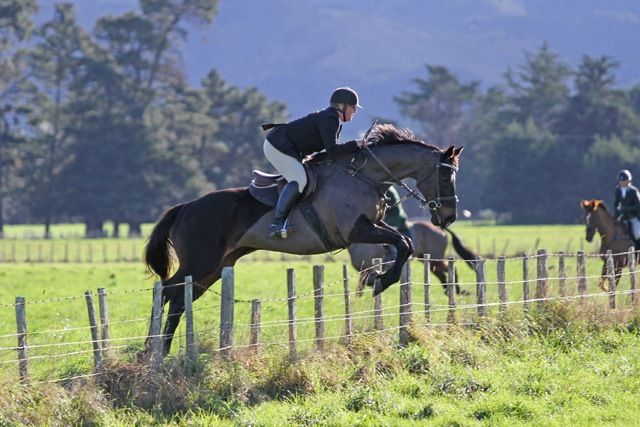 So it sort of ran in fits and bursts for the first couple of hours and we probably jumped 20/25 fences which is super cool fun. Smallish paddocks but heaps of prep so I didn't feel like we missed out that much. God I just forgot how much I love this mare! She has the most stunning extended trot, and such a neat temperament. She is a tiny bit spooky but she has a huge ticker, and is everything you want in a horse. Mum always says that a TB that moves well will always be a great horse because they have so much heart. I like them because they are naturally forward inclined, even if you do have to develop the canter more so than in the WBs.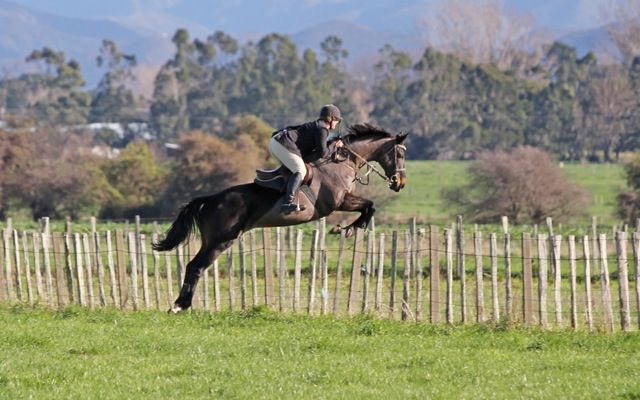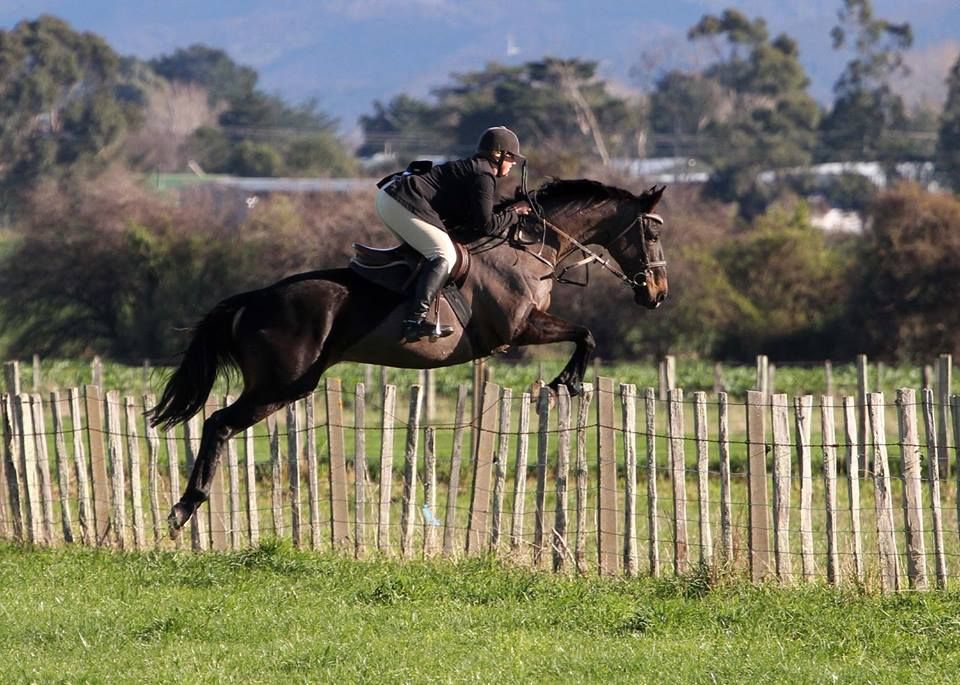 We were on a really good run and flying across the paddock, came round and lined up another full fence and then we all got told to pull up and the hunt disappeared. Apparently the hounds crossed the highway and the hound truck had to go and pick them up. It was half past two and we had been hunting 2 1/2 hrs by this stage and we crossed the road and released the hounds but there was no prep on that side and because I had to get away, me and my old boss shot back and took the horses back to her property just up the rd.
See how bright Kate was even for having been a busy girl.
So I'm at my friends place and we could here the hounds and they had come through a deer paddock and left the whips behind and were heading for the property behind my bosses, so we got our hunt whips and shot across her place and then into the neighbours, shouting at the hounds between gasping for air. Apparently, my cardio sucks and running in long boots is the pits. Then we got to a drain and couldn't cross but my friends dog kicked up and the hounds sort of doubled back and I plunged across the creek and kept running to stop them. You cannot stop a hound easily unless you are on the line they are hunting. So I'm shouting 'leave it' and 'get back to him' at the top of my lungs, and cracking my whip and having what felt like a heart attack and they turned back and started hunting the other way the buggers. Eventually we sort of got them headed in the right direct and the whips called them and they went back the way they came, and sweaty puffed me and my friend went back to the car and then back in for the breakfast. We got lots of thanks though and they were grateful because they would have had a hell of a job to get them back, by the time they went all the way around they would have lost them. You cannot deny the drive to hunt of a hound.
Good times.