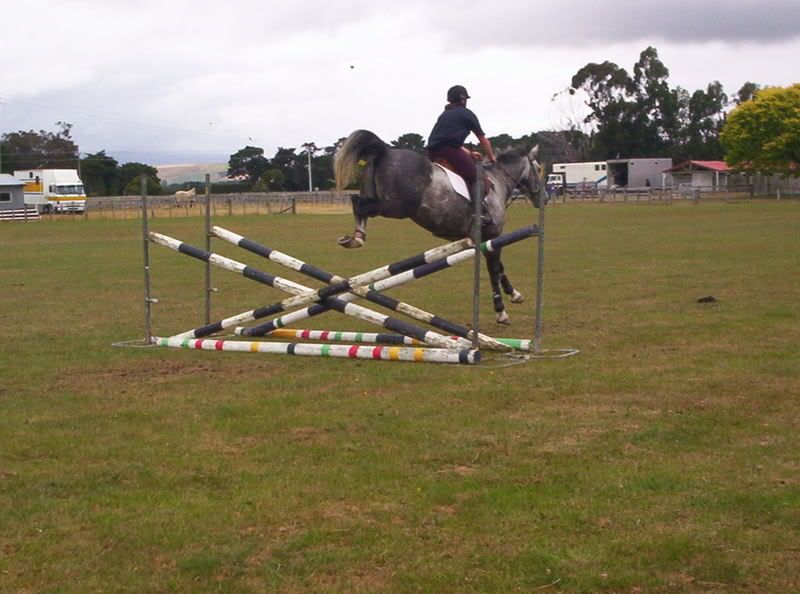 The weather is about to pack up, so after 10 rides, Bill is going to be turned out until Spring. We got walk/trot out in the open which is what I wanted. It seems a shame, but honestly, I'm ready to just have one horse in work, preferably an easy one. Is it crazy to be sick of riding green horses?? I'm tired of dealing with green nonsense.
Kate is going well. She is basically a good horse. She is a bit spooky, sometimes a biut strong and she really doesn't want to work correctly, but we are getting there. She is as smart as a whip and learns really quickly. I love the way when I feed her she paws her bucket with her front foot, but so much more violently then any of the others, she has left great big muddy smears all over the buckets. We rode up the road alone today and just cantered around this massive flat paddock we have at the run-off there. She was strong but mostly good, even if she doesn't like to cross the white lines.
The kicker?? The saddle that fits her best, is a 17 inch but isn't a flat seat. The Bates I use on the others is a flat seat so it's a little more forgiving, but the Pessoa really isn't. Sigh. So here were go I guess. Actual proper diet time. I don't know if you guys have noticed (Maybe the size of the horses hid it pretty well, they are all big animals) but I'm a big girl. Strong and honestly carrying more around the middle than I should. I'm basically really lazy. I know that carrying the extra weight is hurting not only my ability to ride, but also my self-esteem.
So the goal then is 66 kilos. A weight I have been a few times after a lot of hard work. It's probably fairly small for the frame I have but I have so many nice clothes I fit at that weight. So honestly thats 15 kilos to lose. Which I admit is a lot, but at least now I need to lose weight to fit my saddle, I'm actually motivated to do something about it.
Why a picture of Fred you ask? I was going to write smething about him, but when it came to it, I really couldn't put those words down. I look at that picture though and miss him some. Not the bad things, but I knew his buttons, and I loved the sheer power he had over a fence. And he was a wicked color. you have to agree with that.