So having heard numerous reports from different sources that several roads were closed we were trying to find out how we could get home. My friend was keen for home and wasn't keen to stay and I had to be home to work in the morning. National Park was still open so we headed off. Thankfully, my friend had pulled out of the Grand Prix so we left a couple of hours earlier than we otherwise would have and had we stayed for it we wouldn't have gotten through National Park. We left the gates at Te Teko about 2.30pm.
It was actually quite fun initially once we hit the snow because it's pretty unusual for us and so we all had a play in it and took lots of pictures. It continued to get worse and if I said I wasn't a little worried about how much snow was falling I would be lying. We knew it was going to be a hell of a trip because we were heading for Wanganui. At Raetihi there was a turn back to Waiouru and there were no signs saying the road was closed ahead so we thought we would give it a whack.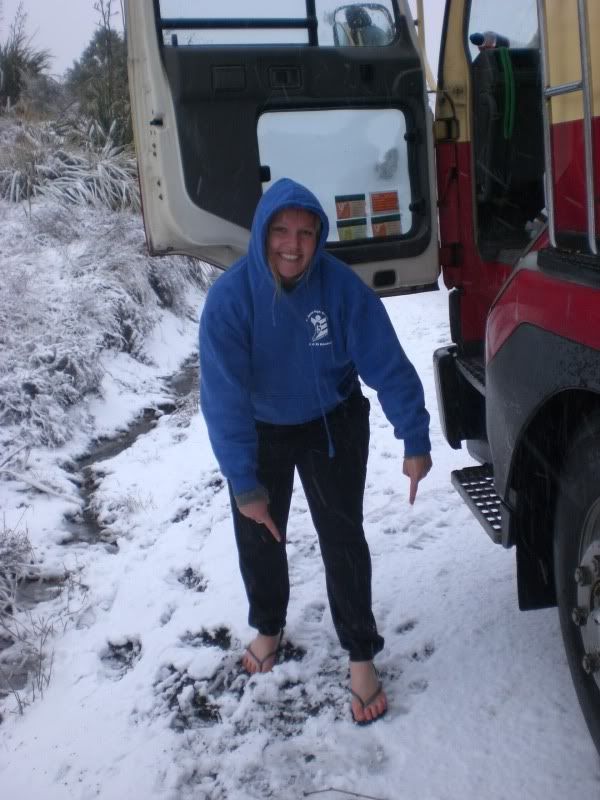 My cousin Bridie rocking the jandals
We hit Ohakune for more snow and so more photos. At this point I climbed in the back with the ponies and climbed over the black horse and walking down on top of the chest bins and in front of the horses heads to see how my girls were. They were all side by side and I was surprised how cold they were because it's very rare for horses to be cold in the box. So then I had to go all the way down the box closing the windows which made the horses roll their eyes at me.
Ohakune with Kim
We struck out for Waiouru but were turned back about 5kms out of Ohakune. Lame! Update your signs guys! You added an hour to our trip. So we turned around and headed for Wanganui again. Now I'm not going to lie I was asleep for this part, but Kim said there was a sign 56kms to Wanganui and she was like yup ok not so far. Then they drove for ages, really up and down and lots of slow corners. And then they saw a sign that was like 46 kms to Wanganui and Kim was like on lame. Then they drove for ages and ages again and the next sign said Wanganui 36kms and Kim was like noooooo! It turned into a hell of a mission.
We rolled into my house after some very quiet final hours of desperately trying to stay awake and make conversation. It was 12.15 and the horses were desperate to get off of the truck poor ponies. I would have loved to have put the mares into warm stables when we arrived but they got thrown out into the paddock with a very bitter win. Poor girls. After packing I rolled into bed at 1am and then was back up at 5.30 to go to work. Lame! I was like a Zombie all day and the girls were pretty stiff.