See the difference in weather between Saturday and sunday?? Brr! Also isn't Rascal a really nice looking horse
Another early sort of a start but 6am felt like a great sleep-in to me so I was bouncing of the walls all morning! This didn't last, the greyer the day got, the greyer I got. I took one look at the 90cm class and went "OMG it's huge" and went green. This of course cracked my sister up and to be honest it was a really nice course. I just lose all perspective overnight, and turn into a big wussy.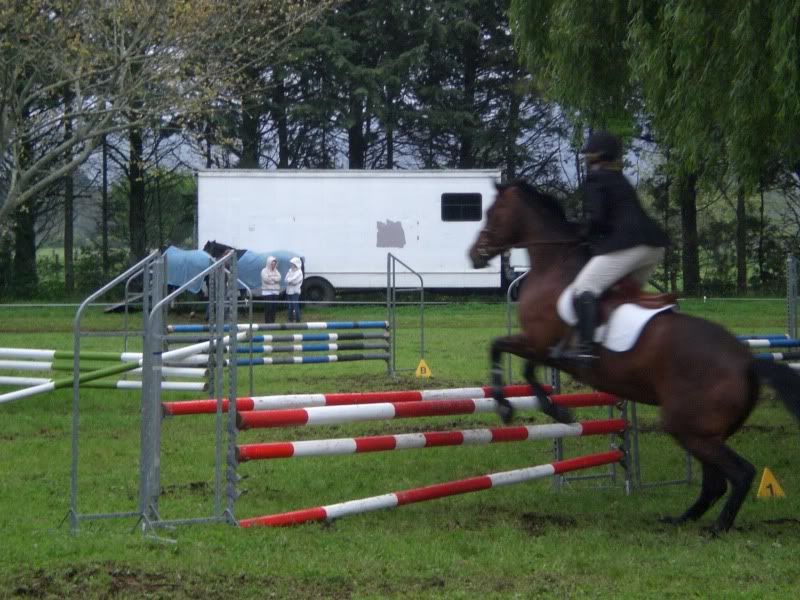 Connie over fence one. I am amused how it looks like we both have duck butts. and as you can see it wasn't big at all I just have an overactive imagination.
What was really nice was that I only had Connie in the first class so it was a leisurely saddle up for me and I gave her a really good warm up. She started off really resistant but once she softened she worked really well. Over the warm up fence she was blowing off my half halt though and racing to the fence as we were jum[ping towards the truck. Once in the ring she jumped well. Neighed/Screamed all the way to fence 1 and I'm not sure she really saw it, but we cleared it. Went well from there until a jump in the middle that I took a ridiculously long take off spot too. What happened is I lost my canter in the corner and sort of hesistated to see my spot (bad habit of mine) so then had to (shouldn't had- could have added a stride) chase to the fence. Had I ridden her all the way round the corner it would have been a good spot. Le sigh. Also got insanely deep to the last fence- you can see the awkwardness of her jump in the picture. I really need to jump this horse a little more- doing crossrails and ground poles like I did with Kate to train the canter and my eye. Unfortunately, Connie is so much fun I tend to not take her seriously enough.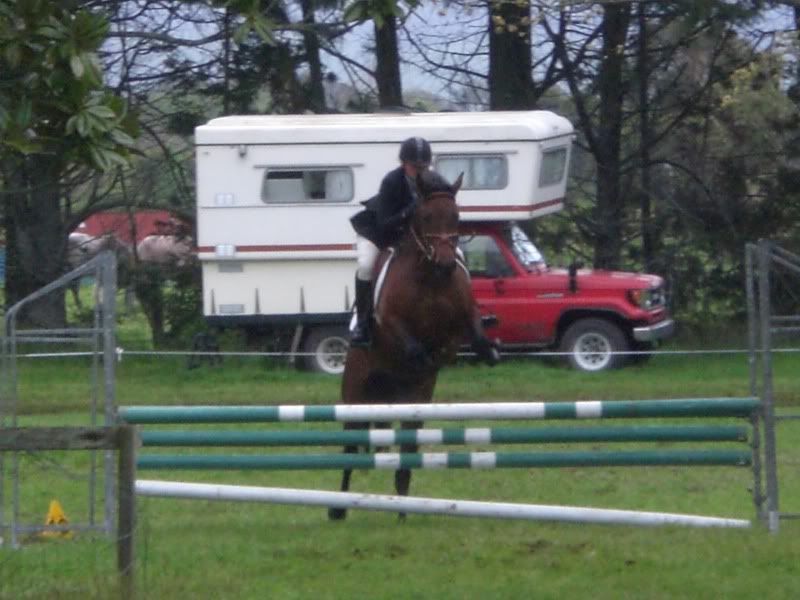 Connie over the last. Check out her near foreleg. How can her foot go that far to the side?? She is an andalusian thats how she moves, haha!
Then Kim rode Rascal in this class. This was a smart move because she missed a lot of the bad weather. I had already decided to pull connie out of the 95cm as she had jumped well enough and there wasn't really anything to gain from another class. If she had been looky at the fences then sure, but she jumped well enough that I was happy to leave it.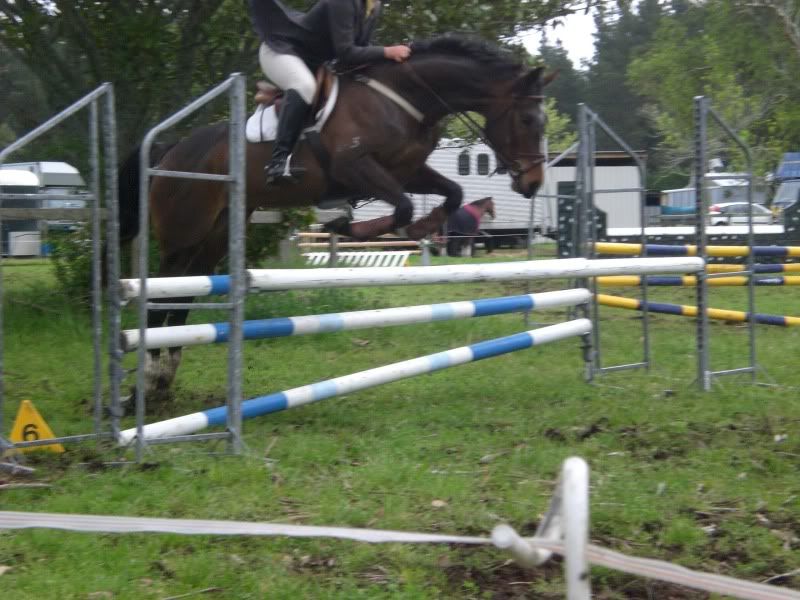 Rascal showing great use of head and neck over a fence and Kim showing an enviable position (what you can see of her)
Kim and Rascal definitely improved an incredible amount over the show. Kim needs to learn to trust her nnew horse and give her a slightly more positive ride to the fences, while maintaining the canter and not making her run. It's a difficult task. She used roller spurs in this round and the two of them put in a really nice smooth round that she should be very proud of. She just a had a rail at the last fence.
Rascal and Kim over the last
Then Kim and I ended up late again for the 95cm which Kate and Rascal were both still in. It was awful cold by now and raining, and again we were helping my friend who put in an excellent round in the 1.25m class. So we scratched from the 95cm and my friend pulled out of the GP and we started to look at pacing up and going home. But then we had to wait for my cousin to do her 1.10m class and so I decided to warm up Kate for the 1m class and see how she handled the rapidly worsening ground conditions. I was concerned because the day before one of her studs had literally sheared off and she had slipped abit in that afternoon. I couldn't remove the thread of the stud so I only had an inside stud on that foot. I ahte only having one stud ina foot because I feel it adds torsion to the leg and especially the inside because they so easily stud themselves.
Kates shorn off stud, with her large inside pointy stud for the bad conditions.
Anyway she warmed up really well though I was so nervous eh. Jumped a big oxer in the warm-up of about 1.05m which didn't make me feel any better but hey. It sucked that they hadn't moved the jumps for a few rounds so it was well chopped up in front of the fences.
Kate over the last fence in the first round
Anyway, she jumped amazingly despite being handicapped by me. I was clear in the first round and then in the jump-off (Proper jump-off for money this time) which went well over the first but then at the wall I saw a short stride she went for the jump (she is better at this than me) and I did a bit of an aerial. Landed in the saddle and continued but I had my stirrup backwards and they are one directional stirrups. So stopped, got my stirrup the right way round, and jumped the last three fences really well.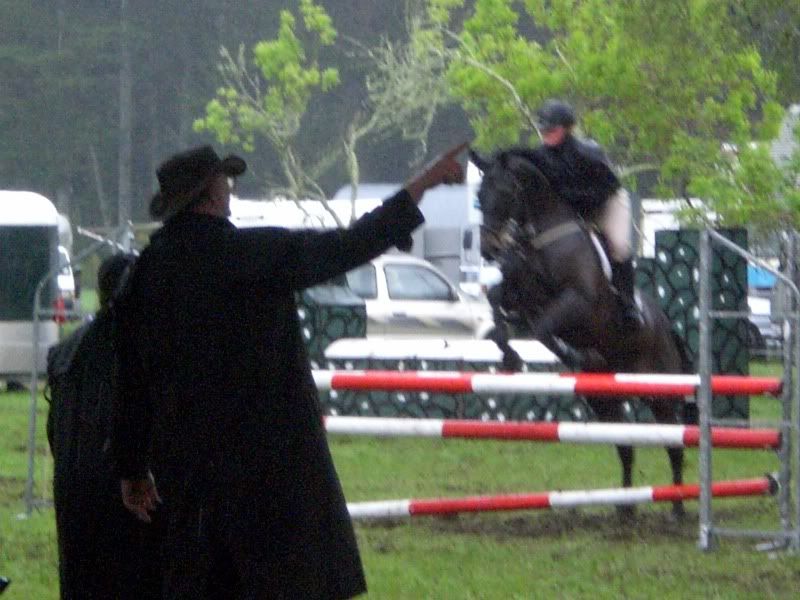 Kate over the last in the jump-off
Poor Kate I let her down really, but I think I got a bit excited by being in the jump-off. Still I was super pleased with her considering the average conditions.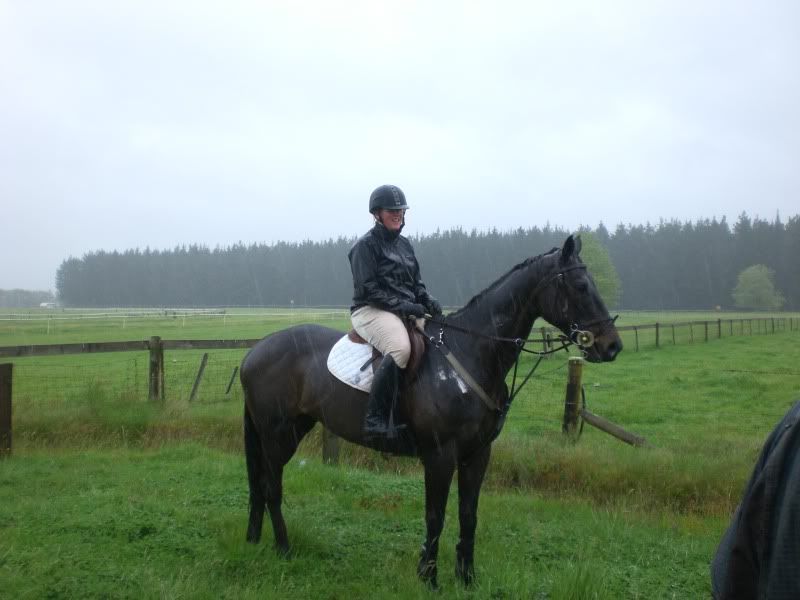 Apparently this picture does not reveal the full extent of how bad the rain was haha!
So we started to pack up and then the first reports of snow started to come in. I was sent a PXT of the snow on the Napier-Taupo road, and then conformation that our most direct route home was closed. Curses!