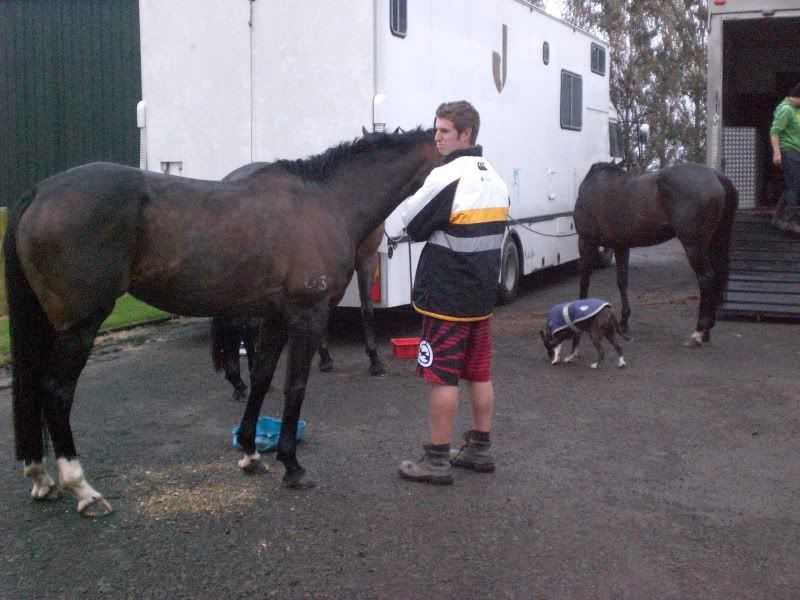 Packing up to leave for the racecourse in the morning- Dan holding Rascal with Kate in the background and Connie obscured
Gosh the whole weekend rather turned into an adventure. It went up and down like you wouldn't believe and it quite the tale as those readers who also have my facebook must now know. Anyway, we left about 1 oclock from my house and arrived at my Aunties about 8 o'clock so it was a hell of a trip. I managed to convince my friend who has a 7 horse truck that seeing as Taranaki was cancelled she should go to Hawera. And thank goodness I did because when we struck out it was windy as and Truckie isn't as good in the wind (or anything really....sorry Truckie) as her truck is. I'm not sure she is so pleased I talked her into it after the weekend but at the time it seemed like a great idea.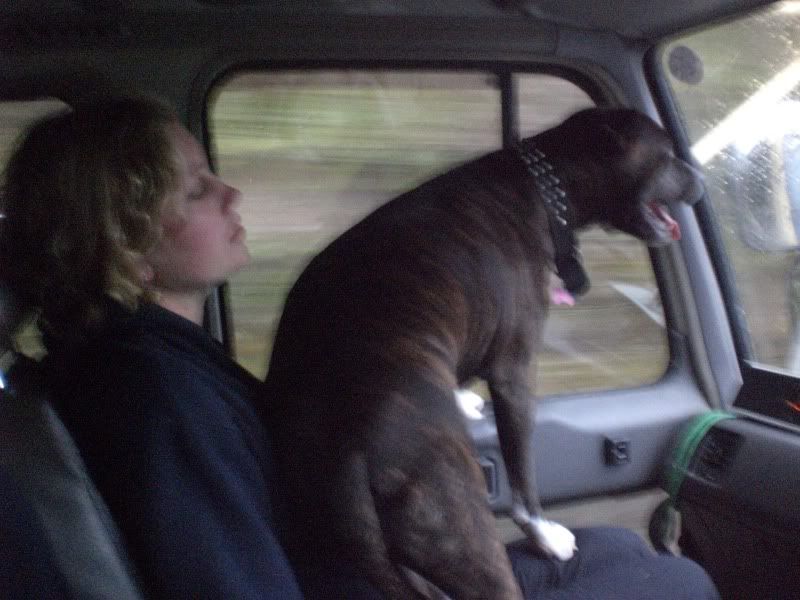 Kim and the lap dog
We picked up my Cousin in Ashurst so we had four people and a staffy dog in the cab which made for an interesting journey. Not the comfiest but we survived. There was some complaining about how we were going to a show where it was forecast to rain, but hey it happens right- it is spring in NZ.So anyways, we arrived at my Aunties and then we all got up bright and early to feed horses and load out to head of to day parking. We got an awesome park next to the fence which meant we could could Kim and my girls away from Anna's boys, especially because one of hers thinks he is pretty studly and two of the girls are pretty boy friendly. It was also insanely warm. The day started with a chilly breeze but was amazingly hot by the end of the day.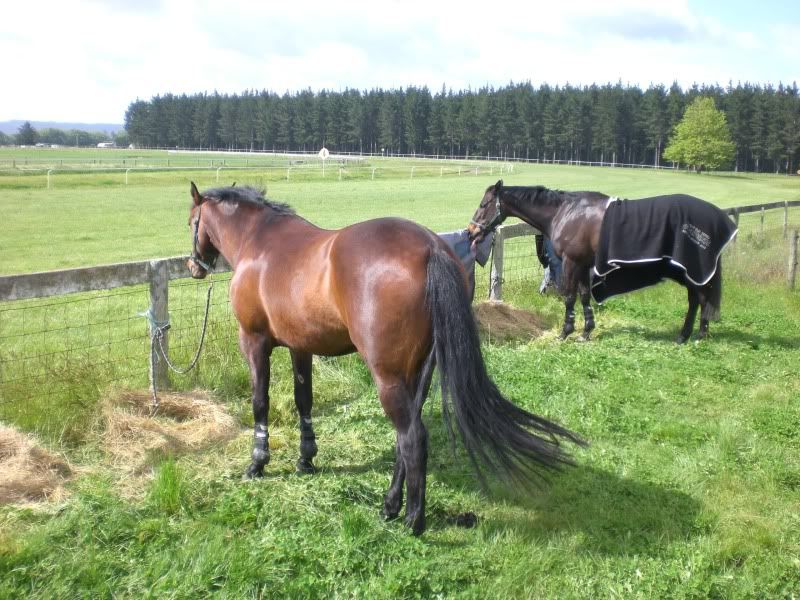 Connie with Kate in the background
The thing I love about Te Teko show is that they have a huge range of classes starting at 80cm on the first day and lots and lots of smaller classes .90-1.10m classes. They also have a wall in every ring. Being able to jump a wall in competition at the smallest heights makes it a lot easier than if you don't see them until you are doing 1.10m classes. The courses all weekend were young horse friendly also. So as you do, we wandered around the showgrounds, watched a few rounds, pulled a few manes, And when we got back to the truck we found that Rascal, without having done a lick of work found herself to exhausted to go on and so she laid down for a lovely sleep. She did this at Te Teko last year also only she had a saddle on then so it was a lot less cute.
So there aren't any photos from the jumping on the saturday because Dan was at cricket. The first class was the 90cm and they were all in it. Rode connie first and she was a dick to start of with and screamed the entire time. I know she will get past this as the season goes on but for now it is quite annoying. Still she jumped well for a double clear with out hesitation at the wall and she did a very cute cute over the picket. She is so bold and happy in her job it's time to start doing more with her. I do have a wee problem with her canter, mostly that it's at an in between stage and I need to work more on developing the "perfect canter" and doing more small feces on her for my eye when I'm riding her because between her and Kate there is quite a difference. Kim and Rascal were also double clear and so was Kate. It was a A1 class so basically everyone that gets a clear round "wins".
The 95cm was a bit of a debacle because I was helping my friend in ring 1 and Kim and I were the last three people to ride in the class. I jumped on Kate and she jumped clear but I turned the wrong way once and after I overshot nine I retired. She jumped really well but I didn't know my course well enough. Kim I think had a rail (I was rapidly saddling up horse two and didn't see it) and then on Connie who had one practise fence- poor mare I hate doing that- I had a rail in the double but the round was a little speedy. The is a bit of a ctach 22 in that I need to keep her forward without her getting speedy but she tends to break so some work needs to be done. And she really isn't that fit after the puncture wound in her foot so I was pleased with her.
Rascal, Kate and Connie having dinner in the yards before being put in their paddock for the night.
Then we packed up and we took everyone back to my Aunties and we enjoyed some bourbons in my Aunties incredible garden listening to some tunes and yarning. It was good times all round.