Ok so the second day at Gisborne and Kate did the 1.15m and the Amateur class which was run over the exact same track. It was my first 1.15m in years so I duffed it a bit to be honest. I needed to let her flow more and create more canter to make up for the sticky trappiness of the ground to help her get over the fences so I had three rails. Dumb dumb dumb. These are basic mistakes but with the increase in height I can't get away with them anymore.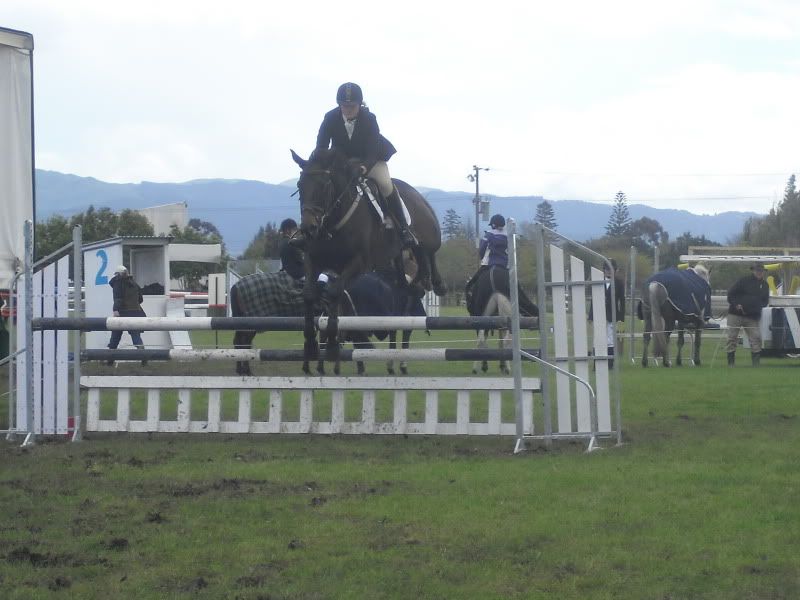 I was first into the amateur because I was a late entry. Started well didn't get the canter going after fence one, came round the crner didn't see my spot tried to make one by collecting more on my already small canter and basically pulled her up. I was gutted. Kate really needs me to make the decision and get her there and be totally committed. It's all a learning curve I guess. Left all of the rails up too and with only five in the jump-off
I would have gotten some amateur series points. I have gotten so ribbon hungry I need to go back to focusing on jumping nice clears lol!
Rascal did the saddle hunters the same day and it was a disaster. The groom found she had untied her self and left her untied so she rolled and she was so clean and plaited. Then when she got over there she was so happy to be out of her yard and itchy from her coat that just decided to shift she spent all of the canter just bounding around and after one class I gave up and went and had a drink.
The disappointment? Kate is lame on her other fore hoof. Not the one she had the abscess in but the other one. I think it might be a penetrating injury this time, but haven't had a chance to have a good dig at it. I followed the track up and couldn't find any pus but it would be my luck to have another abscess just as I am looking at doing my first 1.20m next next weekend. And she is my best most competitive horse (sorry Connie)
Still Wairarapa Showjumping and Showhunter champs this weekend. Rascal is Showhuntering and doing a 90cm on Monday while Connie will probably just do the 1.10m. If she does the first one super I will be really tempted to do the amateur on her but I really don't think she is quite there yet. She hasn't had a consistent run of classes yet what with injury etc. I would be so rapt if Kate was sound for the weekend after that which is the Wairarapa A+P which has a ring 2 1.20m and I know they build nicely there. Boo hiss. Still I guess there is always the next show. Which I haven't entered yet to be honest.