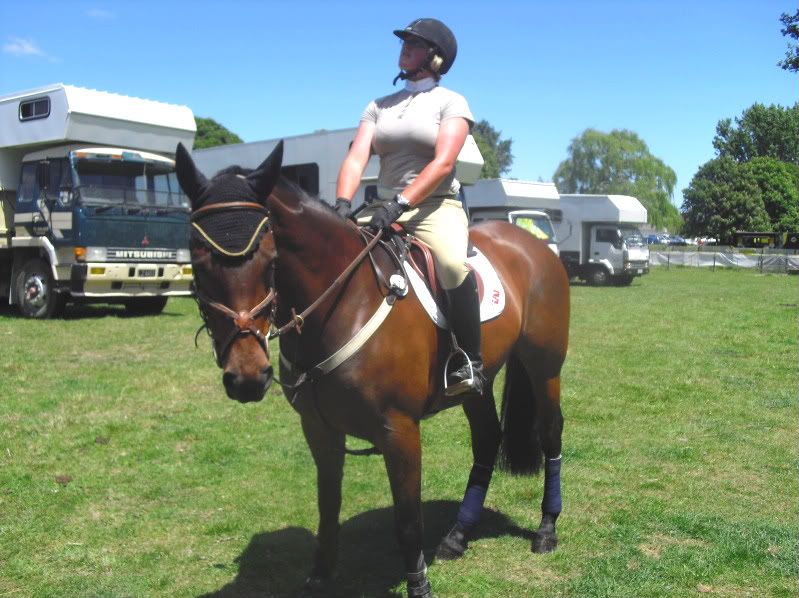 Man it was freaking hot in Waipukarau this weekend, Summer has certainly arrived without warning. The first class out was the amateur and it was the first time I'd gone straight out into an Amateur class without jumping a smaller track in the same ring. It was a fairly big one, looking a lot like the 1.20m class the next day.
Connie went first as I nominated her after Kate stopping the weekend previously. She jumped super, giving lots of air to things, even jumping me around in the saddle a bit with the power she was leaving the ground with, and she never does that! I just had a rail at the first double, when Connie was somewhat tempted to opt out of the scary plank to oxer combination. Still I wasn't allowing that and she finished really well. She is just jumping so well, really jumping across her fences and using herself.
Kate was next, and I made a cock-up because I handed the bell boots to Kim, but never told her to put them on so unfortunately she did have an over reach injury when I finished. She also jumped really well. After the stops the weekend previous I was really on top of her spookiness, but she was never going to stop so it must have been the surface last week. She jumped really well as well, just had the rail in the other double when she closed down behind over the oxer and her back feet hit the back rail. Still no complaints from me. Four fault rounds, while frustrating, at least mean I'm right up there close to breaking through. And I was the fastest four faulter so I was actually 6th and have finally placed in an Amateur class! I'm not sure which horse to be honest, but if it was Connie I'll have one point in the aateur series :) I suspect it was Kate though who is a quicker horse.
Today I just had the 1.10 class, taking it easy if you will. Connie jumped really well, despite being strong. We had an argument about whether or not she should take the deeper spot to fence 7 and we punted that rail out. I should have just taken the longer one, but she should listen to me as well. Work to do there. She was so casual about this height, I suspect it's almost to small for her now.
On Kate I needed to work on getting a better ride to my verticals because I have been choking her a bit to them. In the first round I had a great ride, it was pretty much perfect haha, great rides to all of the uprights. Then I ruined in the jump-off by cutting too tight to an oxer and jumping ahead. She would have jumped if I sat up, but never mind, a small error. I need to practice jumping oxers at angles with her, because I don't know her tolerance for angles really.
I'm exhausted though, and I had decided to flag going over to Whanganui before I left central because I was just knackered and honestly a bit over the whole thing. I needed a break from showing and was very much looking forward to a sleep in tomorrow. I'll do gladstone sports hopefully next weekend and canter round the 1.10m class before North Islands in Foxton the following weekend where it's back to 1.15m and amateur classes. Alas, Whanganui was obviously not to be, as my Dad has some suspected broken ribs and is in hospital, after getting kneed at hockey which means I'm back to work tomorrow. Tough break.